Sydney Finkelstein is the Steven Roth Professor of Management at Dartmouth's Tuck School of Business. He is widely known as one of the top authorities on strategy and leadership. His group is one of the highest rated at Tuck, and it has helped to propel Dartmouth's Tuck School to somewhere near the top of recent business school ratings—including the number two spot in the most recent Wall Street Journal ranking.
Sydney Finkelstein is Director of the Tuck Executive Program and a leading figure in worldwide executive education. He created the highly successful Strategic Leadership program for senior executives at the Australian Graduate School of Management. He has taught in executive education programs in Mexico, Finland, England, France, Italy, Poland, China, and Vietnam, as well as throughout the United States.
Articles by Sydney Finkelstein have been published in the Harvard Business Review, Strategic Management Journal, Organizational Dynamics, Journal of Business Strategy, Administrative Science Quarterly, Organization Science, and other leading business journals. He received the Academy of Management Executive Award for Best Article of the Year (1997), and an award from McKinsey for an article on boards of directors (2002).
Every year Sydney Finkelstein gives talks throughout America, Europe, Asia, and Australia. He is able to address a wide range of audiences in an entertaining fashion, but is prized, above all, for the depth and authority he brings to the subject of learning from corporate mistakes and failures.
Charles Harvey
Charles Harvey is professor of business history and management at Strathclyde Business School, where he serves as dean of faculty. He holds a PhD in International Business from the University of Bristol. Throughout his career, he has been concerned with business leaders and the exercise of power and authority in business, government, and society. His first book, The Rio Tinto Company: an Economic History of a Leading International Mining Concern (1981) won the Wadsworth Prize for Business History. He won the prize again 10 years later, jointly with Jon Press, for William Morris: Design and Enterprise in Victorian Britain (1991). He is well known as a methodologist, notably for the construction of large-scale research databases, serving on the research grants board of the Economic and Social Research Council between 1994 and 1998. He is author of six books and more than 50 academic journal articles in the fields of business history and management, including contributions to the Journal of Management Studies, Human Relations, Organization Studies, the Economic History Review, the Business History Review, and Business History. Professor Harvey has worked extensively as a consultant and executive educator for numerous companies including JP Morgan Asset Management, IBM, J Sainsbury, and Bombardier Transportation. He has served as chairman of a major London hospital group and on the boards of several private sector companies. He has also taught sections of the Tuck Executive Program for Tuck Executive Education at Dartmouth.
In 2006, Professor Harvey published Business Elites and Corporate Governance in France and the UK (Palgrave Macmillan), co-authored with Mairi Maclean and Jon Press. His latest book, Breakout Strategy, written with Sydney Finkelstein and Tom Lawton, was published by McGraw-Hill in November 2006. He has been joint editor of Business History since 1988.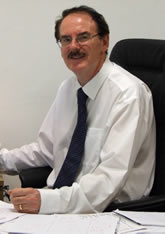 Thomas Lawton
Thomas Lawton is director of Joint Honours Programmes and associate professor of strategic management at Tanaka Business School, Imperial College London. He has been a visiting associate professor at the Tuck School, where he taught in the MBA program and for executive education. An Irish national, Professor Lawton has lived and worked in France, Italy, the U.S., and the U.K. He holds degrees from University College Cork and the London School of Economics and has a PhD in International Political Economy from the European University Institute in Florence, Italy. His research and consulting expertise focuses on strategic leadership and market breakout, the process and practice of strategy, corporate internationalisation and foreign market entry strategy. He is a leading authority on aviation management and the competitive dynamics of the global airline business. His papers have been published in a variety of international journals, including Management International Review, European Management Journal, and Thunderbird International Business Review among others. He is the author or editor of five books, including Strange Power (2000), Cleared for Takeoff (2002), and Breakout Strategy (2006), co-authored with Sydney Finkelstein and Charles Harvey. Lawton has led executive and graduate programs on corporate strategy, leadership, and international business dynamics at universities and corporations in North America, Europe, the Middle East, and Asia. He has worked with a wide range of international companies and organizations in developing their present and future strategic leaders, among them the Arab Air Carriers Organization, Bombardier Transportation, IBM, the International Air Transport Association, Total and Trans4m. He has also served as Academic Director of the global Executive MBA in International Financial Services Management for JP Morgan Asset Management. He can be contacted via email at t.lawton@imperial.ac.uk